Archive for March 15th, 2011
It was almost Christmas and my films hadn't arrived yet from Salt Lake City to the Family History Center.  Plus the Center was closing for 2 weeks for the holidays so I decided to see what I could locate about my family using the internet.  I subscribed to the trial version of Ancestry but still needed a credit card.  I put my information in and totally flipped when I realized my subscription cost me almost $400.00 U.S.!  I swore I was going to cancel it but of course I didn't using the excuse that it would be my X-mas present to myself.
I also registered on the Ellis Island Website which was free but I hated the search engine.  Thankfully I discovered I could search the site using Steve Morse's One Step Pages which I still use and love today. But after weeks of searching, and with the help of some friends on the Italian Genealogy Forum I still hadn't found much that was useful to me – except for:
———–
First Name:
Bruno
Last Name:
Angiletta
Ethnicity:
Italy, Italian So.
Last Place of Residence:
Ardore, Italy
Date of Arrival:
Feb 23, 1920
Age at Arrival:
15y
Gender:
M
Marital Status:
S
Ship of Travel:
Duca degli Abruzzi
Port of Departure:
Napoli
Manifest Line Number:
0017
According to this manifest, a 15 year old Bruno left his grandfather Rocco in Ardore and was traveling with his mother to Pittsburg, Pennsylvania to see his father Giuseppe. I remember my father telling me about a cousin named Bruno who lived in Pittsburg so I pursued this and again with the help of some friends located his obituary. *Note: Some information has been removed.
Bruno Angilletta 1904-2005
Friday, August 26, 2005
Bruno Angilletti
Sept. 16, 1904–Aug. 24, 2005
Private funeral services for Bruno Angilletti, 100, of Newark, will be held for family on Saturday, at the Reed-Egan Funeral Home, 141 Green Wave Drive, Newark, with the Rev. Robert Penhallurick officiating. Interment will follow in St. Joseph Cemetery.
Bruno Angilletti died in the Hospice wing of LPN Health Care Facility on Wednesday, Aug. 24, 2005. He was born in Ardura, Calabria, Italy to the late Joseph and Josephine (Rubino) Angilletti….
…In addition to his parents, Bruno was preceded in death by his wife, Rose (Prato) Angilletti.
The family request that memorials be made to Hospice of Central Ohio, 2269 Cherry Valley Road, Newark.
For an online guestbook, please visit www.reedegan.com.
Originally published August 26, 2005
This is Bruno lived over 100 years – my grandfather Bruno lived to 94.  Using the info from the obit I had my father contact Bruno's daughter and it turned out this was Dad's first cousin.  His daughter was nice enough to provide us with some pictures of Bruno.  Through this I learned that Nonno Bruno had a brother Giuseppe and their father, my great grandfather's name was Rocco.
Francesco Angilletta
I began researching my Paternal roots in Fall 2005 while trying to help my daughter with a school project.  At the time I had very limited resources to work with.  I knew nothing other than the standard information – parents, grandparents, where they lived, where they died – but not much more.  Bruno Angilletta and Caterina Fuda, my paternal grandparents who were from Locri, Reggio Calabria.
Since the first rule of thumb when trying to trace your roots is to start with yourself and work your way backwards,  I downloaded a copy of a Ancestral Chart (also known as a Pedigree chart) from Ancestry and filled in what I could.
Later that afternoon I visited my with parents and attempted to pick their brains,  which wasn't as easy as most people say it is.  My father is the youngest of 7 children and was born in Locri – a fact he has always been very proud of – but didn't really remember much more than I already knew.
Not learning anything knew, I decided to *borrow* my parents photo albums and go through their documents.  Mom had stuff saved that I never even knew existed so this really helped.  Especially when I found my grandmother memory card from when she passed away and it read:

Caterina Fuda
Domenica Caterina Fuda
24 Agosto 1889 – 14 Marzo 1975
Gerace Marina
Discovery #1 – Ok, so I always thought my Nonna's name was Caterina, not Domenica.  And where the hell was Gerace Marina??  It turns out that Locri was known as Gerace Marina prior to 1934 so my Dad being born in 1932, was actually born there.  Nonna it seems, went by her middle name all her life. I decided to keep looking through the pile of pictures and documents for more clues and came upon Nonno Bruno's death certificate: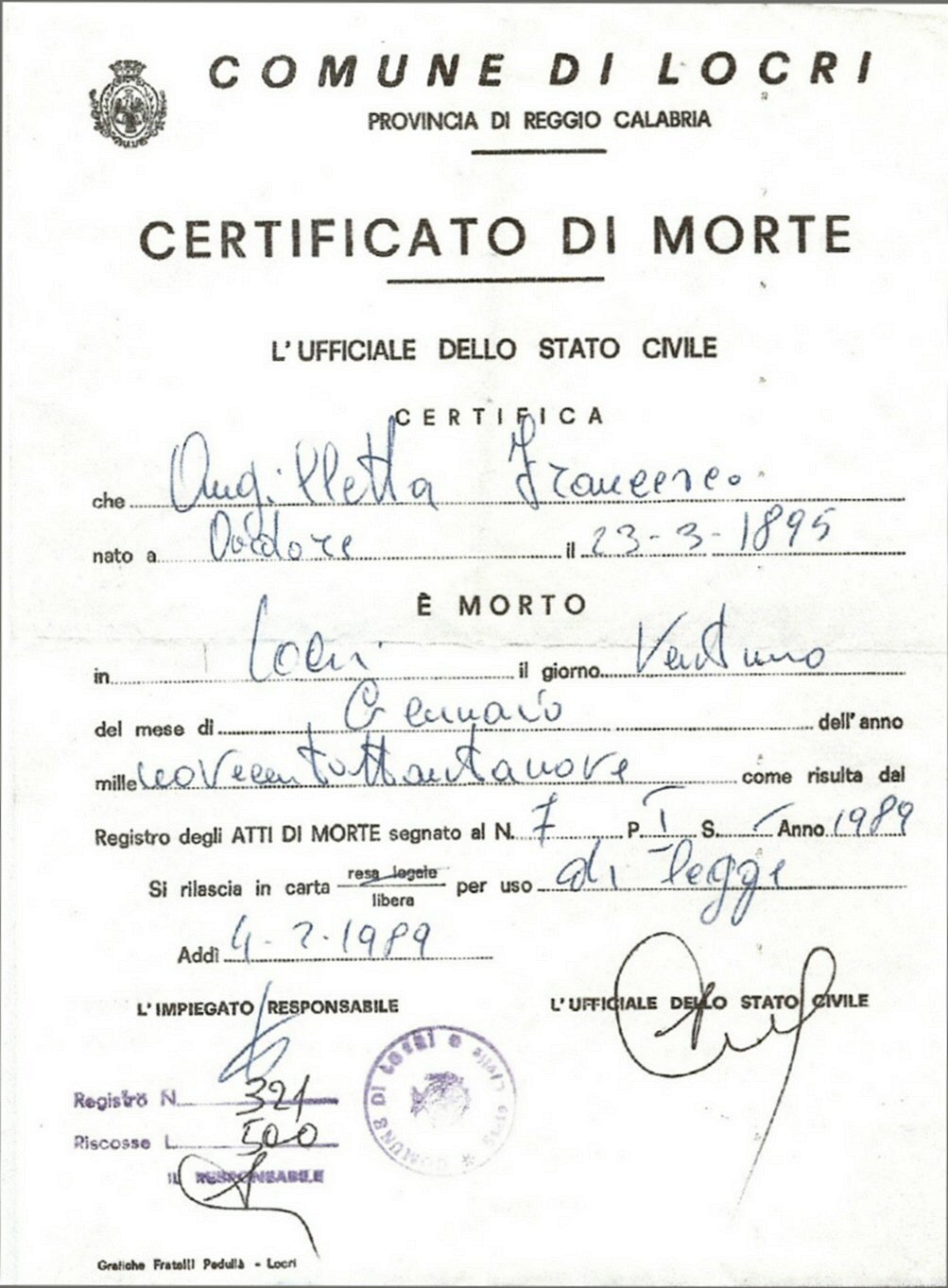 Francesco Angilletta Death Certificate
Discovery #2 – Nonno Bruno was really Francesco and he was born in Ardore, Reggio Calabria in 1895 but died in Locri in 1989.  Ardore is a comune about 3 kms from Locri and is one of the 40 comune to make up what's known as the Locride. Locride is an area of Calabria Italy around the town of Locri in the Province of Reggio Calabria.
Unfortunately the death certificate was only an extract of the event so it didn't provide me with the names of Nonno Bruno's parents and so I would need to locate the birth acts of Francesco and Domenica based on the information I had.  And so I made my way to the closest Family History Center (which isn't all that close) and ordered my first two microfilms to see what I could come up with it.