Well finally after years of searching I have been able (with the help of good friends) break down a major brick wall for my own family. I've traced my patrilineal lineage to the Comune of Gioiosa Ionica in the Province of Reggio Calabria, Italy.
I've uploaded the file for the Descendants of Antonio ANGILLETTA & Rosa SEVERINO with as much sourced information as I have available. I am currently waiting on the Archivist for the Reggio Calabria Archives to send a few more documents and I believe I will be done using Civil Records to trace my family. Next step: Church Records!
Disclaimer
Please note that all information posted thus far is public domain and no privacy laws have been breached intentionally or otherwise. Should you see anything that should not be posted please contact me and I will investigate and if necessary remove immediately. Alternatively, if you would like to add, modify or expand on this family, I would also be interested in hearing from you.

Finally, after months of extracting civil records I have been able to group many of our Angilletta ancestors into Family Groups. The first published family is Nicodemo Angilletta [1853] born in Grotteria to Isidoro and Caterina Panetta who married Elisabetta Lombardo [1863] from Mammola, the daughter of Agostino and Rosa Maria Agostino.
Nicodemo and Elisabetta resided in Mammola and their 13 children were all born there. At least 5 of them died as children.
One child, Rosario Salvatore [1892-1968] immigrated to the United States and was married to Caterina Protetta [1900].  The picture on the right was taken from his passport application from 1922. I will be adding more information about Salvatore and Caterina but will not be adding any details about their descendants as not to violate any privacy laws.   If you descend from any of these people and would like more information then shoot me an email and explain exactly how you are related and we can take it from there.  Please, do not ask me for any personal information – I can't [won't] provide that.
Disclaimer
Please note that all information posted thus far is public domain and no privacy laws have been breached intentionally or otherwise. Should you see anything that should not be posted please contact me and I will investigate and if necessary remove immediately. Alternatively, if you would like to add, modify or expand on this family, I would also be interested in hearing from you.

It was almost Christmas and my films hadn't arrived yet from Salt Lake City to the Family History Center.  Plus the Center was closing for 2 weeks for the holidays so I decided to see what I could locate about my family using the internet.  I subscribed to the trial version of Ancestry but still needed a credit card.  I put my information in and totally flipped when I realized my subscription cost me almost $400.00 U.S.!  I swore I was going to cancel it but of course I didn't using the excuse that it would be my X-mas present to myself.
I also registered on the Ellis Island Website which was free but I hated the search engine.  Thankfully I discovered I could search the site using Steve Morse's One Step Pages which I still use and love today. But after weeks of searching, and with the help of some friends on the Italian Genealogy Forum I still hadn't found much that was useful to me – except for:
———–
First Name:
Bruno
Last Name:
Angiletta
Ethnicity:
Italy, Italian So.
Last Place of Residence:
Ardore, Italy
Date of Arrival:
Feb 23, 1920
Age at Arrival:
15y
Gender:
M
Marital Status:
S
Ship of Travel:
Duca degli Abruzzi
Port of Departure:
Napoli
Manifest Line Number:
0017
According to this manifest, a 15 year old Bruno left his grandfather Rocco in Ardore and was traveling with his mother to Pittsburg, Pennsylvania to see his father Giuseppe. I remember my father telling me about a cousin named Bruno who lived in Pittsburg so I pursued this and again with the help of some friends located his obituary. *Note: Some information has been removed.
Bruno Angilletta 1904-2005
Friday, August 26, 2005
Bruno Angilletti
Sept. 16, 1904–Aug. 24, 2005
Private funeral services for Bruno Angilletti, 100, of Newark, will be held for family on Saturday, at the Reed-Egan Funeral Home, 141 Green Wave Drive, Newark, with the Rev. Robert Penhallurick officiating. Interment will follow in St. Joseph Cemetery.
Bruno Angilletti died in the Hospice wing of LPN Health Care Facility on Wednesday, Aug. 24, 2005. He was born in Ardura, Calabria, Italy to the late Joseph and Josephine (Rubino) Angilletti….
…In addition to his parents, Bruno was preceded in death by his wife, Rose (Prato) Angilletti.
The family request that memorials be made to Hospice of Central Ohio, 2269 Cherry Valley Road, Newark.
For an online guestbook, please visit www.reedegan.com.
Originally published August 26, 2005
This is Bruno lived over 100 years – my grandfather Bruno lived to 94.  Using the info from the obit I had my father contact Bruno's daughter and it turned out this was Dad's first cousin.  His daughter was nice enough to provide us with some pictures of Bruno.  Through this I learned that Nonno Bruno had a brother Giuseppe and their father, my great grandfather's name was Rocco.

Francesco Angilletta
I began researching my Paternal roots in Fall 2005 while trying to help my daughter with a school project.  At the time I had very limited resources to work with.  I knew nothing other than the standard information – parents, grandparents, where they lived, where they died – but not much more.  Bruno Angilletta and Caterina Fuda, my paternal grandparents who were from Locri, Reggio Calabria.
Since the first rule of thumb when trying to trace your roots is to start with yourself and work your way backwards,  I downloaded a copy of a Ancestral Chart (also known as a Pedigree chart) from Ancestry and filled in what I could.
Later that afternoon I visited my with parents and attempted to pick their brains,  which wasn't as easy as most people say it is.  My father is the youngest of 7 children and was born in Locri – a fact he has always been very proud of – but didn't really remember much more than I already knew.
Not learning anything knew, I decided to *borrow* my parents photo albums and go through their documents.  Mom had stuff saved that I never even knew existed so this really helped.  Especially when I found my grandmother memory card from when she passed away and it read:

Caterina Fuda
Domenica Caterina Fuda
24 Agosto 1889 – 14 Marzo 1975
Gerace Marina
Discovery #1 – Ok, so I always thought my Nonna's name was Caterina, not Domenica.  And where the hell was Gerace Marina??  It turns out that Locri was known as Gerace Marina prior to 1934 so my Dad being born in 1932, was actually born there.  Nonna it seems, went by her middle name all her life. I decided to keep looking through the pile of pictures and documents for more clues and came upon Nonno Bruno's death certificate: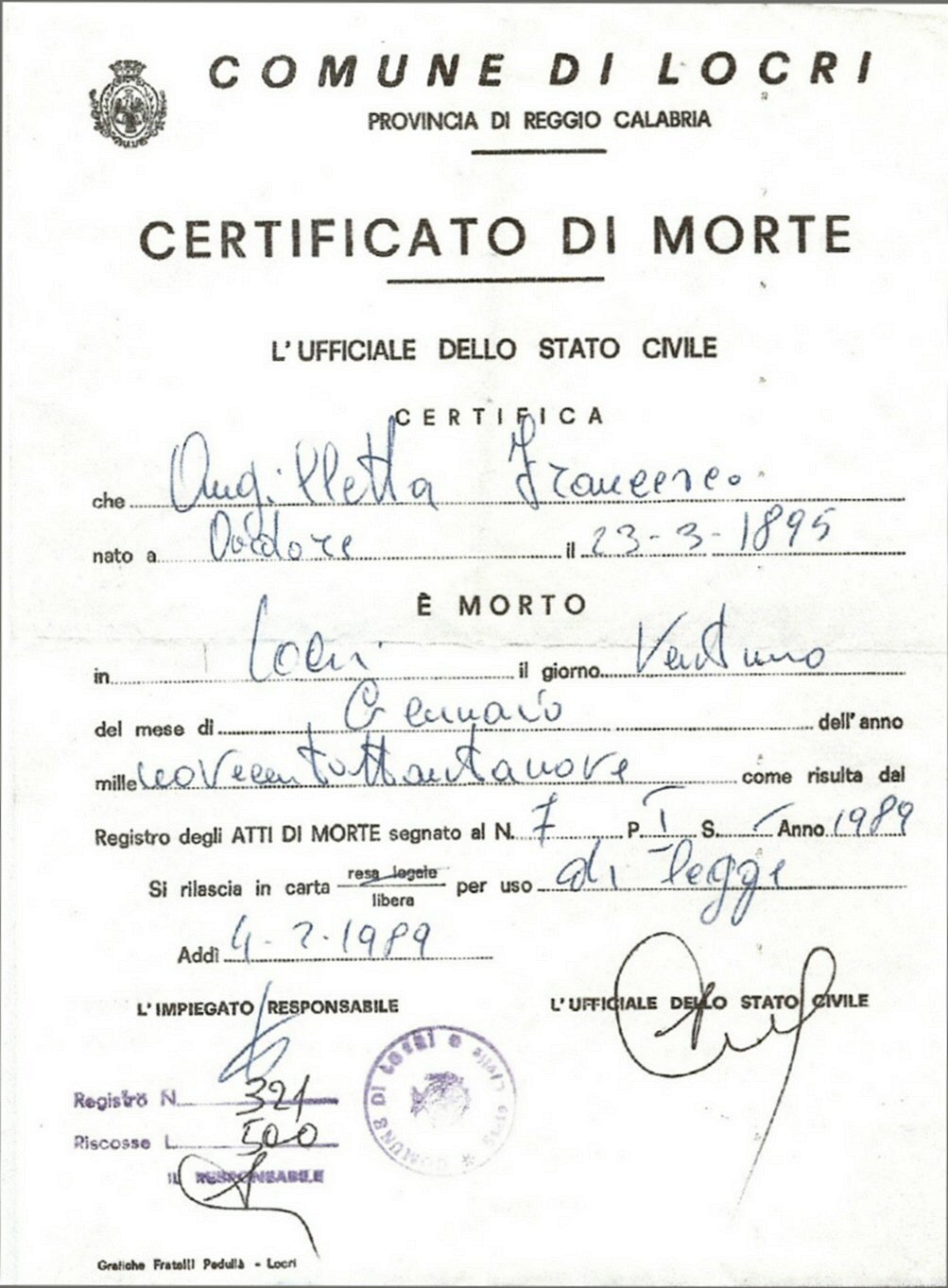 Francesco Angilletta Death Certificate
Discovery #2 – Nonno Bruno was really Francesco and he was born in Ardore, Reggio Calabria in 1895 but died in Locri in 1989.  Ardore is a comune about 3 kms from Locri and is one of the 40 comune to make up what's known as the Locride. Locride is an area of Calabria Italy around the town of Locri in the Province of Reggio Calabria.
Unfortunately the death certificate was only an extract of the event so it didn't provide me with the names of Nonno Bruno's parents and so I would need to locate the birth acts of Francesco and Domenica based on the information I had.  And so I made my way to the closest Family History Center (which isn't all that close) and ordered my first two microfilms to see what I could come up with it.

Will be uploading several new records to the site for Caulonia, Grotteria and Ardore for the early 1900's  thanks to a good friend, Carmen Papallo.  These records will allow many of you to add to your family tree and confirm relationships.
I was able to locate with these the marriage info for my great uncle Giuseppe who I always believed married in Ardore but found he actually married in the province of Catanzaro.
Keep an eye out for them as I will be adding them sometime within the next two weeks.

Still working on the families of Grotteria thanks to Carm  who sent me a bunch of new records.  Salvatore spent time in Arlington Massachusetts and traveled back and forth to his home in Grotteria.  His son, Giuseppe and daughter, Dorotea also made trips to Massachusetts and eventually settled there. While I'm updating the page I thought you might like to see the records:
Salvatore ANGILLETTA (circa 1856) and Maria Nunziata MACRI.
Their Children:
Teresa Immaculata ANGILLETTA (circa 1879)  married Francesco Antonio FEMIA .  Here are their marriage and pubblicazioni records.
Giuseppe ANGILLETTA (circa 1885) married Maria SCALI – WW1 Draft Registration Information
Dorotea Elisabetta ANGILLETTA (1888) birth act.

Just finished uploading the family group sheet for Vincenzo ANGILLETTA di Francesco of Grotteria, Reggio Calabria, Italy.  He married Maria Rosa MAGGIO.  The family changed their surname to Gillette for a short time which made it a bit challenging to research at first but using Ancestry and the Family Search site together I was able to piece enough information to construct a page.
Am working on the census extraction information now and will link soon for anyone who is interested. I have also charted three of his daughters along with their spouses and children.

Cosimo Angilletta was born on 2 July 1925 in Gerace Marina (Locri) to Francesco Angilletta of Ardore, Reggio Calabria, and Domenica Fuda of Gerace Marina.  He was the fourth of seven children and the second oldest son.
In about 1954, he married Marianina Esposito, daughter of Pasquale and Rosina Tropea of Bianco and together they had two sons.
In January of 1995 he died of a brain tumour after having being ill for just over a year and is buried at Mount Pleasant Cemetery on St. Clair Ave. W. in Toronto, Ontario.

Coal Miners Memorial Park is a webpage dedicated to the miners of Greenwood, Arkansas, Historical District.
From their memorial page:
The Memorial was dedicated to honor the coal miners of Sebastian County, Arkansas. Coal miners were the heart of our heritage that we enjoy today.  These walls of memories include names of the men who mined the coal that fueled the industrial might of America…
I am linking this page because Giuseppe Antonio Angilletta a.k.a Joseph Angeletti, and his brother, James Angeletti as well as others Angeletti's names are listed on the Memorial.
JAMES ANGELETTI
JOSEPH ANGELETTI
TEALY ANGELETTI
TONY ANGELETTI

Giuseppe Antonio ANGILLETTA
A.K.A. Joseph J. ANGELETTI
Father: Salvatore ANGILLETTA
Mother: Filomena PANETTA
Born: 21 Apr 1888 in Grotteria, Reggio Calabria, Italy
Married: 6 Dec 1937 Sebastian, Arkansas, USA
Died: 2 Sep 1952 Calvary Cemetery, Fort Smith, Sebastian County, Arkansas, USA
Spouse: Louise MAESTRI
Father: Leo MAESTRI (1894-1962)
Mother: Caterina
Born: 27 Jul 1919 in Greenwood, Sebastian, Arkansas, USA
Died: 3 Mar 2008 in Liberty Cemetery, Fort Smith, Sebastian, Arkansas, USA
Sources:
Comune of Grotteria Birth Act #88
Titles: Registri dello stato civile di Grotteria (Reggio di Calabria),
1809-1910 Grotteria (Reggio di Calabria). Ufficio dello stato civile
Nati: 1888 FHL INTL Film
1800866 Item 1